Huggle Hoodie

6 reviews
---
List Price:$39.99
Price:$29.94
You Save:$10.05 (25%)
SELECT AN OPTIONOption:
Ultra plush blanket hoodie
Full Sleeves & Large Pocket
Reversible
Soft & Warm
Product Description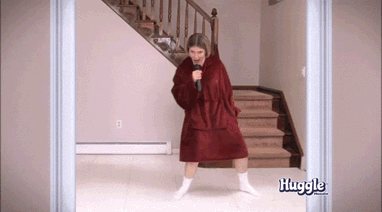 The Huggle Hoodie is the most comfortable oversized hooded sweatshirt that keeps you totally snug and warm from head to toe. Made for the softest, most luxurious blanket fabric and lined with the ultimate in warming, comfort.
The amazingly comfortable Huggle Hoodie combines the warmth of a cozy blanket with the comfort of your favorite hoodie. It's made of ultra-soft fleece on the outside and plush Sherpa material on the inside. Generously sized to keep you warm from head to toe. Features an extra large hood to keep your head warm and snug and a big, roomy pocket to keep what you need right at hand. It's even reversible!!
Perfect for home, office, dorms, shopping running errands, tailgating, camping and so much more.
Huggle is the oversized, ultra comfy sweatshirt you can wear anywhere! Just slip it on and the chill is gone.
Kids love it too!
Machine washable.
Customers who bought this also bought
Huggle Hoodie Reviews
Huggle Hoodie Reviews

by P.M. on 10/14/2018
I received this yesterday, 10/13. I was anxiously awaiting it's arrival, because I am always so cold. We keep our home thermostat set to 76 degrees, but I still am so cold. The family members complain about the heat when they visit. As soon as I received the Hoodie, I washed it, and then put it right on. What a blessing! I wore it for the rest of the evening, and then to bed. I fell right to sleep, because I was warm! I didn't awaken in the night because of being cold. I am now going to order another, because I will probably wear one out from wearing so much, and I want to have another to alternate. It was and is money well spent for me. The only thing I would change would be to have a zipper in the front so I wouldn't have to put it over my head. I am 82 years old, and that would just make it easier for me.
9 people found this helpful. Was this review helpful?

by B.K. on 04/10/2019
I bought 3 of them, my family loves them.
4 people found this helpful. Was this review helpful?

by C.D. on 01/07/2020
This one was a gift for my granddaughter and she is absolutely in love with it
1 person found this helpful. Was this review helpful?

by M.O. on 01/03/2020
kids loved it!!
Was this review helpful?

by S.H. on 12/26/2019
Very warm
Was this review helpful?

by C.S. on 01/04/2020
Got this for my granddaughter for Christmas and she loves it
Was this review helpful?
Rating Summary

58 total ratings
| | | |
| --- | --- | --- |
| 5 star | | 60% |
| 4 star | | 39% |
| 3 star | | - |
| 2 star | | - |
| 1 star | | - |
All ratings are from verified customer purchases.
Customers who viewed this item also viewed
Your Recently Viewed Items