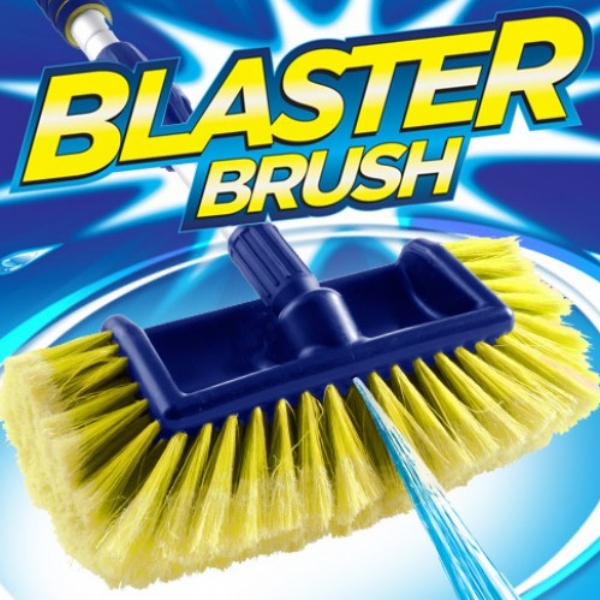 Blaster Brush

2 reviews
---
Blast away dirt and grime with the unique 2-in-1 cleaning Brush
Power of a Pressure Washer
Blast away heavy dirt in seconds
Connects to any standard hose
Product Description
Blast away dirt and grime with the Blaster Brush, the unique 2-in- 1 cleaning brush and high pressure sprayer. The Blaster Brush, as seen on TV, combines the power of a pressure washer with a super soft scrubbing head, all in one. Much more powerful than a traditional flow through wash brush.

The secret is the patented Blaster Brush instead of water flowing through the brush it blasts from powerful spray nozzle above the brush head allowing you to blast away the heavy dirt in seconds before scrubbing. Features on/off switch, telescoping pole (extends from 34.5" to 54"), safe non-scratch bristles and a powerful blast of water that can reach up two stores. Connect to any standard garden hose.

The Blaster Brush is great for cleaning cars, boats, vans, caravans, motor-homes, wheels, patios, house windows, refuse bins and much, much more! No more bending, reaching or soapy hands, just blast dirt and grim away.
Customers who bought this also bought
Blaster Brush Reviews
Blaster Brush Reviews

by M.A. on 06/06/2014
I used the blaster brush to clean home sidings. I love the jet spray and it cleaned well with the appropriate product recommended for use.
Was this review helpful?

by B.J. on 09/12/2012
I bought it for my car initially. The pressure is not as hard as a power washer so does not strip the wax coat off and that appealed to me. I washed and rinsed my car in record time with no damage and without getting wet after getting the hang of it. Ive used a flow thru brush and a power washer before with not much luck or complete satisfaction, but this is like using a combination tool and its great. I now use it on the driveway also, just the pressure part, and have succesfully cleaned the edges of my pool. It deserves a 5 star rating and im fairly fussy with my car!!
Was this review helpful?
Rating Summary

4 total ratings
| | | |
| --- | --- | --- |
| 5 star | | 75% |
| 4 star | | - |
| 3 star | | 25% |
| 2 star | | - |
| 1 star | | - |
All ratings are from verified customer purchases.
Customers who viewed this item also viewed
Your Recently Viewed Items