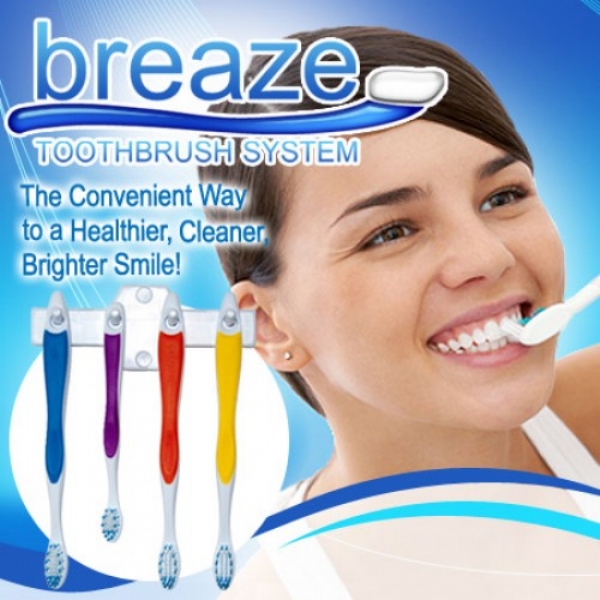 Breaze Toothbrush System

Be the first to write a review!
---
List Price:$9.99
Price:$5.99
You Save:$4.00 (40%)
The Convenient Way to a Healthier, Cleaner, Brighter Smile!
Bristle are Made of High Quality Material
Brush Hangs Upside Down to Dry
Installs on Wall, Mirror or Inside Cabinet
Product Description
The Breaze Toothbrush System As Seen On TV - Your Convenient Way To A Cleaner, Healthier Smile. Keeping mold, fungi and other germs away from toothbrushes is the reason the unique Breaze Toothbrush System As Seen On TV was developed. Instead of old-fashioned and often unsanitary methods of storing your toothbrush, Breaze hangs toothbrushes from the handle, with the head hanging down; any excess water and residue drips down, leaving your toothbrush completely dry!

The bristles are made of high quality material and arranged in a manner to get in between hard to reach tooth surfaces for optimal plaque removal. With the option of mounting the set to the wall, mirror, inside a bathroom cabinet or any other surface in the bathroom storing the system is now a Breeze!

Breaze Toothbrush System was tested by dental professionals, pharmacist, and health conscious moms and they LOVE it!

Includes hanger and 1 toothbruah
Customers who bought this also bought
Breaze Toothbrush System Reviews
Breaze Toothbrush System Reviews
No customers have left a written review of this product yet.
You can be the first to write one!
Customers who viewed this item also viewed
Your Recently Viewed Items