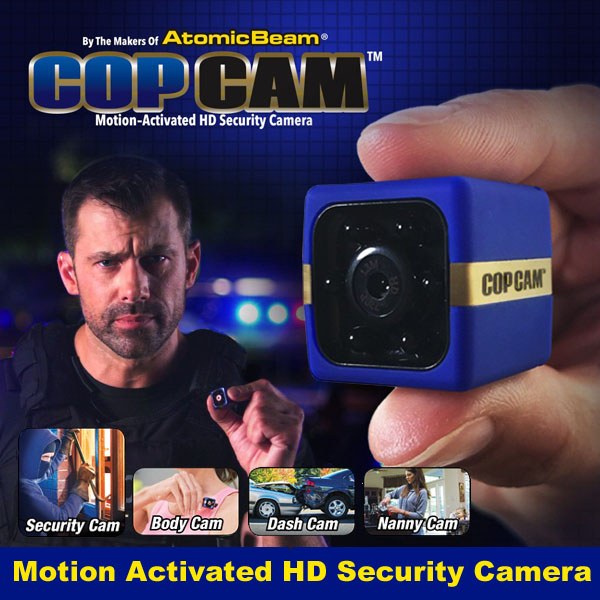 Cop Cam

Be the first to write a review!
---
List Price:$49.99
Price:$39.94
You Save:$10.05 (20%)
Motion Activated HD Security Camera
Compact, cordless security camera
Records day or night
Use as a security camera, dash cam or action camera
Product Description
Home security camera system can be costly and difficult to install. Cop Cam by Atomic Beam is the affordable, wireless security camera, measures less than one square inch and can hide virtually anywhere. Set it on a shelf or mount it on a wall.

The Cop Cam is equipped with a high definition camera that records in HD video and the powerful microphone records great audio for best footage possible.

The motion activated loop-recording camera start recording when it detects motion and stops when motion is no longer detected. No more sifting through hours of uneventful footage. It features 6 red infrared LED lights that allow you to even records at night! And because the infrared LEDs emit light invisible to the human eye, burglars, trespasser and other criminals won't know they are being watched. Works indoors and outdoors.

Cop Cam is more than just a security camera, use the swivel clip (included) and turn the Cop Cam into a powerful dash cam or action camera. Easily upload your videos to your computer.

NOTE: Please review state and local laws of your jurisdiction regarding the use of video recording devices.


Customers who bought this also bought
Cop Cam Reviews
Cop Cam Reviews
No customers have left a written review of this product yet.
You can be the first to write one!
Rating Summary

40 total ratings
| | | |
| --- | --- | --- |
| 5 star | | 50% |
| 4 star | | 50% |
| 3 star | | - |
| 2 star | | - |
| 1 star | | - |
All ratings are from verified customer purchases.
Customers who viewed this item also viewed
Your Recently Viewed Items