Copper Eggs XL

3 reviews
---
List Price:$29.99
Price:$14.94
You Save:$15.05 (50%)
Cook perfect eggs without the shell
Make your favorite hard boil eggs without the shell
Non-stick coating so clean-up is a breeze
PTFE and PFOA Free
Product Description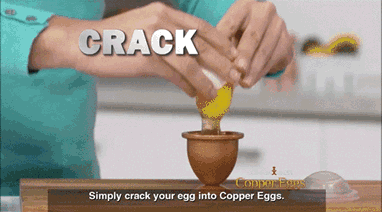 Cook perfect large-size eggs without the shell - no peeling required. Simply crack your egg into Copper Eggs, cook, and watch the eggs slip right out without their shell.
Copper Eggs are coated with innovative Cerami-Tech Coating, which means nothing sticks to them so clean-up is a breeze! XL Copper Eggs are perfect for large hard, medium, or soft-boiled eggs.
To use Copper Chef Copper Eggs, you simply crack open an egg into the pod, cover it, place the pod in the caddy and place it in boiling water. After about 15 minutes, you'll have perfectly shaped hard boiled eggs that slide right out.
Because the pods are egg shaped, you'll still get hard boiled eggs that look like you'd expect. The only difference, which is probably an advantage, is that one end is flat ,meaning you can actually stand these up on end. If you want to get creative, you can also add a few other ingredients to the egg before you cook it.
Poach eggs for quick and easy eggs Benedict. Make enough deviled eggs for a party without peeling a shell! Pour egg whites for a protein-packed day. Add sausage, peppers, and cheese and shake for an omelet on the go.
PTFE and PFOA Free
Heat resistant up to 850 degrees F
Non-stick outer coating
Includes 4XL Copper Eggs, 4 matching lids, 1 egg caddy,
Customers who bought this also bought
Copper Eggs XL Reviews
Copper Eggs XL Reviews

by K.J. on 08/29/2018
Works great
1 person found this helpful. Was this review helpful?

by D.S. on 07/09/2019
Works ok I guess would be better if you could just Microwave
Was this review helpful?

by P.P. on 07/29/2018
I am planning to use these when I make boiled eggs for my company!!
Was this review helpful?
Rating Summary

51 total ratings
| | | |
| --- | --- | --- |
| 5 star | | 50% |
| 4 star | | 45% |
| 3 star | | 1% |
| 2 star | | 1% |
| 1 star | | - |
All ratings are from verified customer purchases.
Customers who viewed this item also viewed
Your Recently Viewed Items