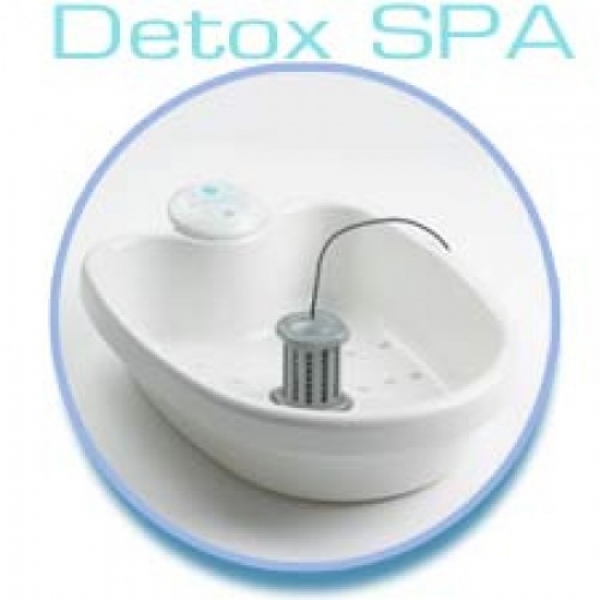 D-Tox Foot Spa

2 reviews
---
The Bio-Energiser D-Tox Spa starts the process of rebalancing your body
ReBalances Your Bodies BIO ENERGY
Uses SPECIAL Low Sodium Salt
Detoxify in Just 30 Minutes per WEEK
Product Description
When our bodies experience poor diet, ill health, injury, or pollutants in the environment, our cells become unbalanced, containing too many positive ions. The Bio-Energiser D-Tox Spa starts the process of rebalancing your bodies bio-energy, positive and negative ions. Using a special low-sodium salt, the detox foot spa helps re-vitalize and detoxify your body with just one 30 min. treatment per week.

It helps drain deposits from lymph glands, sweat glands, and your pores, leaving you with renewed energy levels, both physical and mental, and a general feeling of well-being. As the color of the water changes, you know your foot spa is working.
Customers who bought this also bought
D-Tox Foot Spa Reviews
D-Tox Foot Spa Reviews

by H.S. on 08/08/2014
Chemotherapy left my body damaged by the heavy metal chemicals. This is a great, homeopathic addition to massage, acupuncture, supplements, and essential oils. I believe anything that can aid in detox is a great thing in my book.
Was this review helpful?

by O.. on 02/18/2014
awesome
Was this review helpful?
Rating Summary

2 total ratings
| | | |
| --- | --- | --- |
| 5 star | | 50% |
| 4 star | | 50% |
| 3 star | | - |
| 2 star | | - |
| 1 star | | - |
All ratings are from verified customer purchases.
Customers who viewed this item also viewed
Your Recently Viewed Items