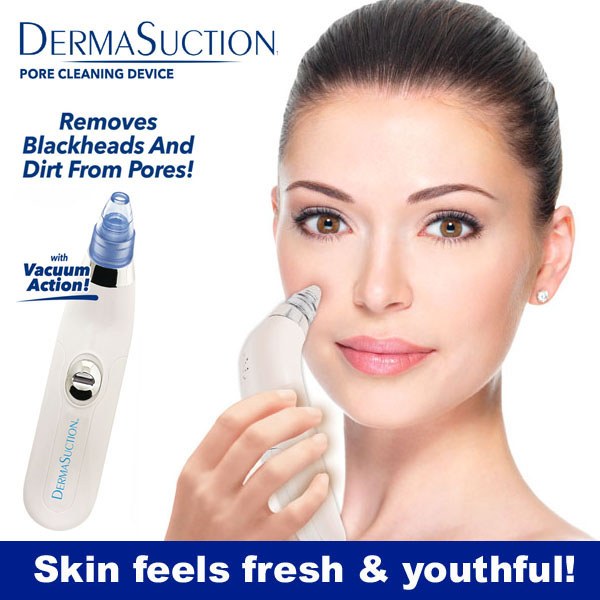 DermaSuction

2 reviews
---
List Price:$29.99
Price:$19.94
You Save:$10.05 (34%)
DermaSuction
Helps to minimize the appearance of fine lines
Leaves skin feeling clean & youthful
Powerful but gentle vacuum action makes extraction quick & painless
Product Description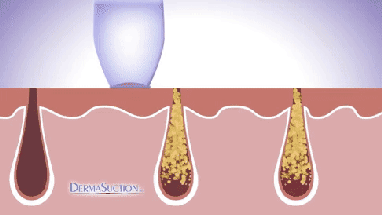 Grossed out by your clogged pores? Looking for a better way of how to get rid of blackheads? DermaSuction effortlessly removes blackheads for a painless and easy blackhead removal.
Squeezing damages delicate skin tissue. And so-called blackhead remover masks often fall short of their claims. DermaSuction as seen
on TV uses a powerful, yet gentle vacuum that extracts impurities and blackheads from your pores. With two different power settings, you choose the one that's right for you to remove dirt, oil and grit and reveal even looking and healthy complexion.
DermaSuction has 4 interchangeable suction heads for the perfect extraction. The oval head smooths areas with fine lines and stimulates circulation in the skin. The small head helps unclog and reduce blemishes great for sensitive skin. The large head provides deep cleaning of pores with strong suction to massage large areas of the body (torso, arms, legs and back). The sonic microdermabrasion head gently loosen and exfoliates dead skin. Reveal your beautiful skin.
When you're done, simply rinse the dirty suction head under water. Waterproof.
The secret is the powerful, yet gentle vacuum action packed inside the DermaSuction. Use it anywhere on your face or body and watch as DermaSuction extracts so much yuck. You'll be amazed at the results. It leaves your skin feeling clean and youthful.
Requires 2AA batteries (not included). 8.5" L.
Customers who bought this also bought
DermaSuction Reviews
DermaSuction Reviews

by h.b. on 08/31/2019
Bought 2 one for me and one for my mom. We love it!
Was this review helpful?

by E.P. on 10/11/2018
Love it
Was this review helpful?
Rating Summary

52 total ratings
| | | |
| --- | --- | --- |
| 5 star | | 46% |
| 4 star | | 53% |
| 3 star | | - |
| 2 star | | - |
| 1 star | | - |
All ratings are from verified customer purchases.
Customers who viewed this item also viewed
Your Recently Viewed Items