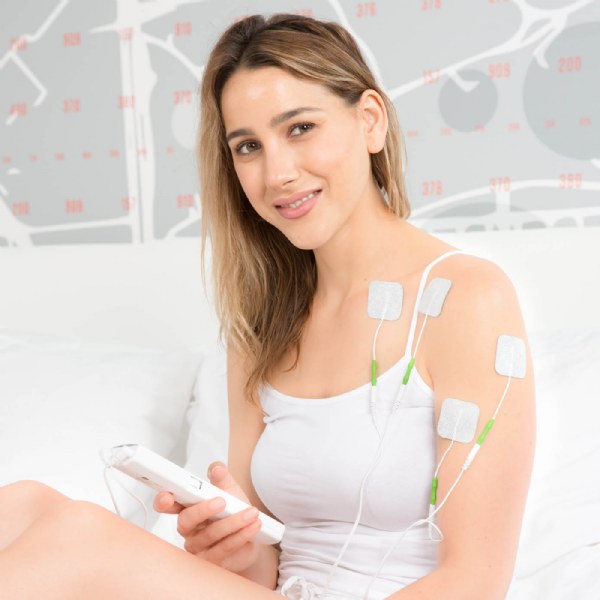 Electronic Pulse Massager

Be the first to write a review!
---
List Price:$59.99
Price:$49.99
You Save:$10.00 (17%)
Option:
Electronic Pulse Massager
Five Auto Modes (stimulation programs)
High frequency stimulation to relieve pain quickly
Three selectable massages
Product Description
Soothe tired or sore muscles in the comfort of your own home with the Prosepra Electronic Pulse Massager. This portable, compact massager is a Transcutaneous Electrical Nerve Stimulation (TENS) therapy unit that uses mild electronic impulses to stimulate muscles and alleviate pain. Six automatic massage programs and three massage techniques with adjustable speed allow you to customize your experience.

With the Electronic Pulse Massager's six pre-set automatic massage programs, you can tailor the therapy to your unique needs. You can choose between three massage techniques: light massage, kneading, and firm massage. Plus, the adjustable speed allows you to fine-tune the massager, customizing your session. Ideal for relieving sore muscles caused by exercise, muscle spasms, carpal-tunnel and more. Great for soothing arms, legs, back and joint pain.

FDA approved - the Electronic Pulse Massager works using Transcutaneous Electrical Nerve Stimulation (TENS) therapy. TENS therapy uses a micro-computer that controls high-frequency stimulation through electrode pads placed close to the muscle area you want to target. This type of therapy helps your muscles to contract, assisting the release of waste products like lactic acid and aiding your body's normal healing process.

The Electronic Pulse Massager is compact and portable, so you can take it with you anywhere. It is ergonomically designed for optimum comfort. The massager includes four attachment pads with electrodes that adhere securely to your skin and remove easily after each therapy session.

Requires four AAA batteries (included), the massager features an LCD screen that clearly shows the massage style, intensity, and time remaining.

Includes: the TENS unit, 2 cables, 8 electrode pads, 4-AAA batteries, and operating manual.


Customers who bought this also bought
Electronic Pulse Massager Reviews
Electronic Pulse Massager Reviews
No customers have left a written review of this product yet.
You can be the first to write one!
Rating Summary

5 total ratings
| | | |
| --- | --- | --- |
| 5 star | | 60% |
| 4 star | | 40% |
| 3 star | | - |
| 2 star | | - |
| 1 star | | - |
All ratings are from verified customer purchases.
Customers who viewed this item also viewed
Your Recently Viewed Items