Fidget Cube

4 reviews
---
List Price:$19.99
Price:$0.00
You Save:$19.99 (100%)
SELECT AN OPTIONOption:
The Original 6 sided Fidget Cube by Antsy Labs lets you fidget at school, home or work.
Click - 3 buttons that click audibly, 2 silenced buttons for sneaky fidgeting.
Glide - Joystick glides smoothly across the surface. Flip - Switch rocks back and forth.
Roll - Tactile gears and clickable ball and socket for quiet and loud fidgeting. Spin - Rotating dial.
Product Description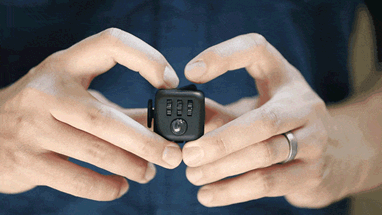 The Fidget Cube is an unusually addicting, high-quality desk toy designed to help you focus. Fidget at work, in class, and at home in style. Featuring 6 different sides you can click, flip and roll yourself into focus.
Beware of cheap counterfeits - we only stock the original Fidget Cube from Antsy Labs, the Kickstarter success story which raised more than $6.4 million!
Click. No need to click that pen anymore. You'll find 3 clicker buttons and 2 silenced buttons on this side design to satisfy the clicker in each of us.
Glide. You don't have to be a gamer to enjoy the unusually satisfying gliding action of this joystick.
Flip. Pivot this switch back and forth gently if you're looking to fidget silently, or quickly for a more audible click.
Roll. The gears and ball on this side are all about rolling movements (with the ball sporting a built-in click feature).
Breathe. Say goodbye to stress. The design of this face is inspired by traditional worry stones, tools used to reduce anxiety when rubbed.
Spin. Looking for a circular fidget? Take this dial for a spin.
Customers who bought this also bought
Fidget Cube Reviews
Fidget Cube Reviews

by C.L. on 02/25/2018
Fidget, it works to calm you down or switch focus off all bad things in your brain
1 person found this helpful. Was this review helpful?

by J.H. on 01/07/2018
Perfect size for my child. Could be bigger for adults.
1 person found this helpful. Was this review helpful?

by J.G. on 11/07/2017
Different but my grandson loves the spinner more.
1 person found this helpful. Was this review helpful?

by J.B. on 05/09/2018
Looked better on video. Don't really like it. Ok for the first few minutes, then appeal is gone. The manufacturing is OK, but it is not worth the price you pay really.
Was this review helpful?
Rating Summary

55 total ratings
| | | |
| --- | --- | --- |
| 5 star | | 49% |
| 4 star | | 47% |
| 3 star | | - |
| 2 star | | - |
| 1 star | | 3% |
All ratings are from verified customer purchases.
Customers who viewed this item also viewed
Your Recently Viewed Items