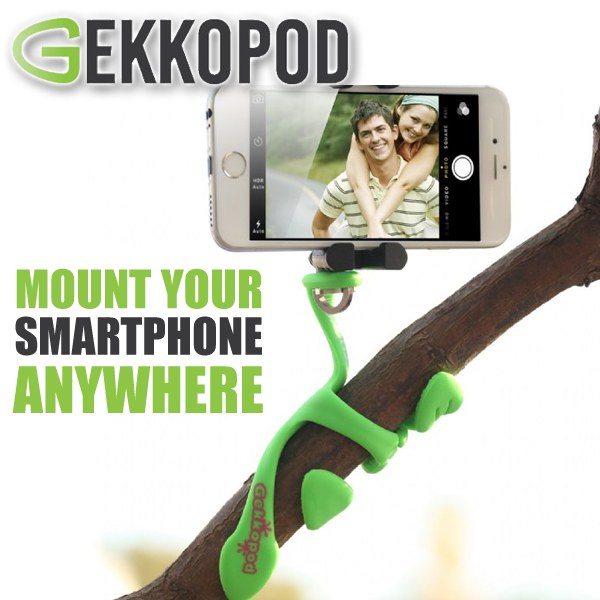 Gekkopod Smartphone Mount

Be the first to write a review!
---
List Price:$19.95
Price:$0.00
You Save:$19.95 (100%)
SELECT AN OPTIONOption:
Portable and Extremely Flexible Smartphone Mount that can be Wrapped Practically Anywhere!
Flexible, Portable, Light-weight, universal mount.
Wraps around just about anything.
The ultimate tripod for your Smartphone.
Product Description
-THE ULTIMATE TRIPOD MOUNT FOR YOUR SMARTPHONE! - Adaptable mount fits all smartphones on its universal smartphone holder, and the pod holds on, grabs on and holds tight to almost anything with its super flexibility and gripping non-slip dots

-FLEXIBLE, PORTABLE, LIGHTWEIGHT, UNIVERSAL and most importantly lovable. Attach Gekkopod to any of your precious devices for a 100% secure handle of your device

-PERFECT SOLUTION FOR TRAVEL, extreme activities, sports and everyday use. It is more versatile than a selfie stick and allowed in theme parks

-MADE OUT OF HIGH GRADE MATERIALS - 80% food grade silicon and 20% metal that has a unique design that will allow you to bend it easily to any shape and It will stay in that form

-INCLUDED IN THE PACKAGE - 1 Gekkopod, 1 universal D-Ring screw, 1 Smartphone universal holder. All Gekkopod products are backed by our 100% Satisfaction Guarantee!
Customers who bought this also bought
Gekkopod Smartphone Mount Reviews
Gekkopod Smartphone Mount Reviews
No customers have left a written review of this product yet.
You can be the first to write one!
Rating Summary

50 total ratings
| | | |
| --- | --- | --- |
| 5 star | | 44% |
| 4 star | | 56% |
| 3 star | | - |
| 2 star | | - |
| 1 star | | - |
All ratings are from verified customer purchases.
Customers who viewed this item also viewed
Your Recently Viewed Items