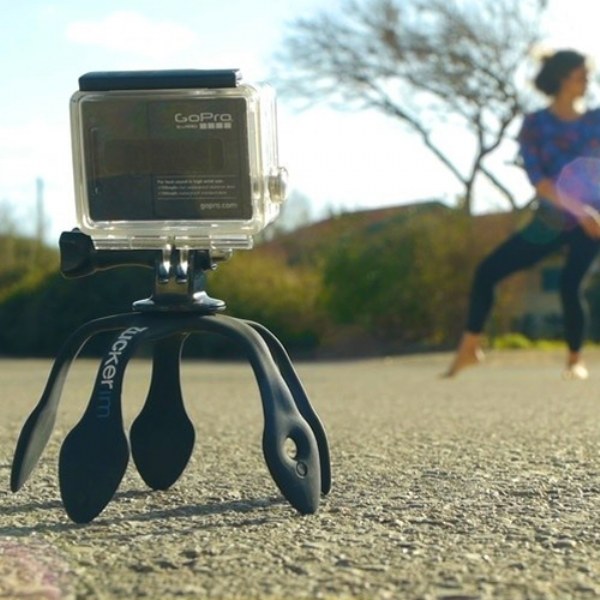 Gekkopod GoPro Mount

Be the first to write a review!
---
List Price:$19.95
Price:$9.95
You Save:$10.00 (50%)
Option:
The world's best smartphone and GoPro holder
Flexible, Portable, and light weight.
Perfect for travel.
Ultimate tripod for smartphones.
Product Description
You are going to love the Gekkopod, here is why:

Adaptable Camera Positioning - Place the adaper at the center of the pod or on the designated leg for more flexability and creative positioning. The flexible, wrappable legs tackle any terrain for precise control in photo or video composition iven under water (considering that your devise is water proof).

Rugged Materials - Durable Silicon with steel internal structure designed to survive the wear and tear of everyday use on-the-go for even the most active and adventurous users out there.

Travel Ready - The Compact and Lightweight Mount is compact and can fit in any travel bag, hand bag, computer bag and camera bag. This Tripod is never too big because you can roll it up into a tiny ball if you have to so it is Perfect to Throw in Your Bag, Backpack or Pocket.

Keep Your Device Safe - You can trust the Gekkopod brand with your devise. The five extremely durable legs can be contorted to adjust and grip onto smartphones, pocket cameras, and even GoPros very securely.

Two connection points -The mounts can either be screwed on through the center of the device, or through an opening in one of it's 5 legs. Use the 5th leg to easily fine tune your composition after you've positioned the GekkoPod legs

Usage suggestions Designed For: ALL Smartphones, point and shoot cameras and action video cameras (GoPro) Be sure to select the appropriate mount for your devise.

Car & Travel -- Use as a CD slot holder or hang on the back of the seat in front of you

Home & Office -- Hands free viewing on any desk or counter top

Leisure & Outdoors -- Wrap around bike handlebars, backpack, or baby stroller
Customers who bought this also bought
Gekkopod GoPro Mount Reviews
Gekkopod GoPro Mount Reviews
No customers have left a written review of this product yet.
You can be the first to write one!
Rating Summary

6 total ratings
| | | |
| --- | --- | --- |
| 5 star | | 83% |
| 4 star | | 16% |
| 3 star | | - |
| 2 star | | - |
| 1 star | | - |
All ratings are from verified customer purchases.
Customers who viewed this item also viewed
Your Recently Viewed Items