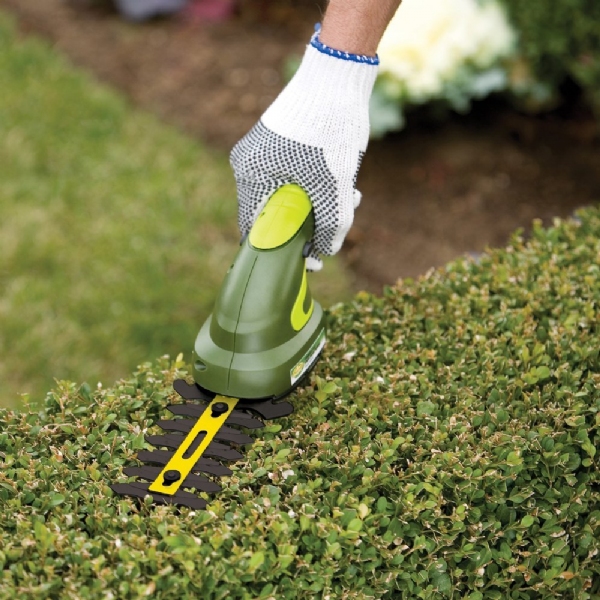 The Hedger Joe 2 in 1 Grass Shears

3 reviews
---
List Price:$45.45
Price:$39.95
You Save:$5.50 (12%)
Get the JOB Done with these Cordless Shears with NO MESS!
Rechargeable Battery Powered
Converts form Shears to Shrubber
Lightweight Design and Ergonomic Handle
Product Description
Cordless Grass Shear / Shrubber. Perfect for post-mowing touch ups in tight spaces, the Hedger Joe 2-in-1 grass shear/shrubber boasts a 3.6-volt long-life lithium-ion battery for hassle-free, cordless operation. Power up instantly with the push of a button and start shearing or shrubbing with cord-free convenience. Rechargeable battery power also makes Hedger Joe eco-friendly and maintenance-free, so you'll be able to get the job done without having to mess with gas or oil or pollute the environment with toxic hydrocarbon emissions.

Combining two tools into one versatile device, Hedger Joe features an interchangeable blade system that easily converts from a grass shear to a shrubber. Both the 3.31-inch shear blade and the 5-inch shrubber blade are made from durable steel and feature safety ears for easy handling.

Weighing just around 2 pounds, Hedger Joe's lightweight design and ergonomic handle give you better control so you can perform a variety of grooming tasks with maximum comfort and minimal fatigue. It also features a safety switch to prevent accidental starting. ETL approved and backed by a full two-year warranty, the Hedger Joe HJ602C 2-in-1 cordless grass shear/shrubber is your winning choice this spring.



Small gardens, hedge grooming and areas your mower cannot reach

2 tools in 1: Convert from grass shear to shrubber quickly and easily

* Long-life, rechargeable, 3.6 V lithium-ion battery for hassle-free, cordless operation (battery charger included)

Lightweight design (only 2.11 lbs!) with ergonomic handle for easy control and handling

nterchangeable 3.31-inch shear blade and 5-inch shrubber blade tackle multiple grooming tasks




Customers who bought this also bought
The Hedger Joe 2 in 1 Grass Shears Reviews
The Hedger Joe 2 in 1 Grass Shears Reviews

by C.U. on 09/09/2015
I found this to be a great little trimmer. The charaging light lets you know when it is fully charged, in under 3 hours. The Li-ion battery makes for a lightweight unit. It cut through 1/8"-thick shrubbery without a problem and if it did choke on a thick branch, it restarted readily after removal of the blocking branch. I didn't use the grass-clipper attachment but swapping out blades was pretty straightforward. I also have a Black and Decker SSC1000 (6") trimmer. It uses a Ni-Cd battery which takes a long time to charge and is much heavier and doesn't give the same run time that I could get with the Sun Joe trimmer. The Ni-Cd battery also suffers from memory effects, which can reduce the overall run time as the unit ages. The only complaint that I would have related to the arrangement of safety switch and on/off switch. It could be a little more user friendly. But after getting used to it, using the trimmer is fairly easy. Overall, I give it high marks.
Was this review helpful?

by Y.F. on 09/06/2015
Bought this b/c I'm someone who has never liked line trimmers, the line always gets tangled and I have a hard time getting the line reel back on (arthritis and small hands). I had a different electric shear about 10 years ago. The battery eventually went dead and I never bothered to replace it. This shear works about as good as the one I owned previously. I spent a good 40 minutes clipping weeds that were growing through my fence, didn't notice any reduction in power. But, like previous reviewer Deb, I don't like having to hold down both buttons simultaneously. It's makes my hand tired too quickly.
Was this review helpful?

by C.P. on 09/01/2015
All I can say, is this little trimmer is FANTASTIC. I have several 8 foot high sculptured pyramidal evergreens that require trimming every few weeks. It use to take me about 45 minutes per evergreen to trim, not to mention having to drag out extension cords and my heavy full size electric trimmers. Don't let the size or that this trimmer is battery operated fool you. This trimmer is powerful, lightweight, holds a charge for up to 3 hours of use, and recharges in about 40 minutes to full power. What use to be a dreaded back breaking chore, has become effortless as I'm able to keep all the evergreens trimmed on a biweekly basis and what use to take me 40 minutes per evergreen to trim, now takes me 15 minutes or less. No more extension cords, No more heavy bulky full size hedge trimmers. Update: 8/6/15 Well here it is 4 years later & I need replacement blades for my 2 trimmers. I've gone to Sun Joes official web site several times over the past 4+ months...
Was this review helpful?
Rating Summary

3 total ratings
| | | |
| --- | --- | --- |
| 5 star | | 33% |
| 4 star | | 33% |
| 3 star | | 33% |
| 2 star | | - |
| 1 star | | - |
All ratings are from verified customer purchases.
Customers who viewed this item also viewed
Your Recently Viewed Items