Hurricane Spin Duster

2 reviews
---
List Price:$24.99
Price:$19.99
You Save:$5.00 (20%)
Motorized Dust Wand
Dust heads attract and trap dust
Fits hard-to-reach places
Super-soft dust head conforms to all shapes
Product Description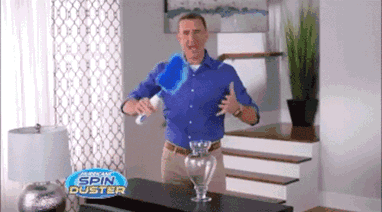 Hurricane Spin Dust motorized dusting wand is the painless way to dust your home.
Dusting is back-breaking work. Your old feather duster spreads dust everywhere, while using a cloth and spray is downright tedious. Hurricane Spin Duster is the motorized duster that eliminates dust in half the time. When you're ready to dust, just press the button and Hurricane Spin Duster starts spinning. All you have to do is glide it over your dusty surface. Hurricane Spin Duster practically does the work for you!
Attracts and traps dust.
When you use a feather duster, microfiber duster, or a generic bristled dust brush dust is pushed around. It goes back into the air and lands on another surface. You home isn't really clean. Hurricane Spin Duster has special electrostatically-charged bristles that attract and trap dust. The removable dust heads keep dust locked in the bristles until you wash the soft bristles.
Fitting your dust wand in small spaces is a big challenge. It's almost impossible to dust mini blinds and shutters and office necessities like keyboards, laptops and monitors. Hurricane Spin Duster's ultra-soft bristles conform to any shape. It's perfect to get tough-to-reach areas like corners, crevices and space between appliances. Easily evict those dust bunnies residing at the bottom of your glass vase.
Feather dusters aren't meant to be washed. Each time you reuse that dirty duster, you're spreading dust particles (and possibly dust mites) around on your furniture. Gross! Hurricane Spin Duster has removable dust heads that are washable. Just remove the dust head, rinse under water, then allow to air dry. You clean with a fresh dust head each time you dust.
Hurricane Spin Duster is more than your generic old duster. It's a dusting system. Each Hurricane Spin Duster includes the Hurricane Spin Duster, two unique dust heads, and extension rod. Uses 4 AA batteries (not included).
Customers who bought this also bought
Hurricane Spin Duster Reviews
Hurricane Spin Duster Reviews

by P.B. on 06/30/2019
LOVE it
Was this review helpful?

by S.L. on 08/15/2018
Works like it says it does!!!!
Was this review helpful?
Rating Summary

53 total ratings
| | | |
| --- | --- | --- |
| 5 star | | 49% |
| 4 star | | 50% |
| 3 star | | - |
| 2 star | | - |
| 1 star | | - |
All ratings are from verified customer purchases.
Customers who viewed this item also viewed
Your Recently Viewed Items