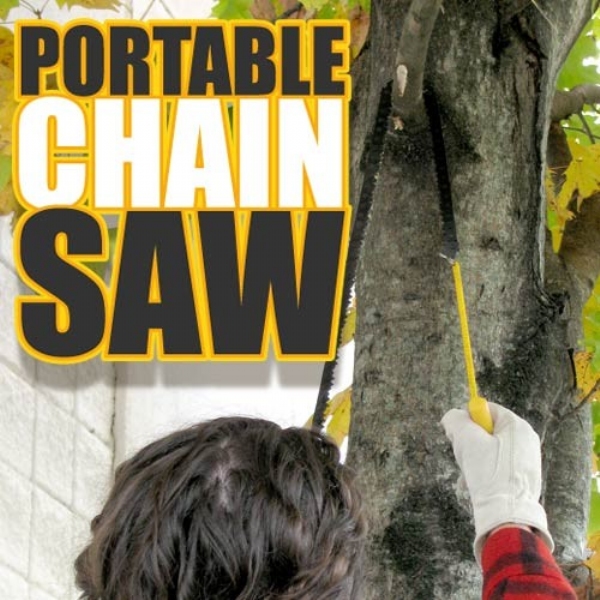 Portable Chainsaw

3 reviews
---
List Price:$29.99
Price:$19.95
You Save:$10.04 (33%)
Now the power of a chain saw fits in your pocket with carrying pouch.
360 Degrees of Flexibility
Compact Handheld Fits in your POCKET
Durable Carbon Steel Ally Blades
Product Description
Now the power of a chain saw fits in your pocket - the amazing Portable Chainsaw with carrying pouch. Is heavy yard equipment weighing you down? Lighten up with this compact, handheld chainsaw. This Portable Chainsaw as seen on TV makes cutting through small tree limbs and shrubs a cinch. Best of all, you don't have to hassle with power cords, fuel or heavy, dangerous equipment. This ultra-portable tool goes anywhere in its own compact drawstring bag.

Say "Good-bye" to noisy, electric or gas-powered chainsaws and trimmer and "Hello" to the Portable Chainsaw with its low-maintenance design. Features durable, long-lasting carbon steel ally blades, comfortable ergonomic handles . 360 degrees of flexibility great for cutting and working in tight areas. Cuts up to a 4" limb in seconds. Easily remove fallen limbs and clear fence lines with ease. The ideal tool for campers and hikers. 28" blade. Overall length 56"


Customers who bought this also bought
Portable Chainsaw Reviews
Portable Chainsaw Reviews

by L.T. on 09/12/2015
I was expecting one of those thin wire saws that I've seen before, so I was surprised when I received this and realized it was actually a real chainsaw chain with some handles on the end. I took it right outside and trimmed a 2" diameter branch in about 30 seconds. Of course this is not as fast a chainsaw but you cannot expect that. I don't think that you'd really do heavy yard work with this unless you had really strong arms (come to think of it, this could be a good arm workout!) So I think as long as you use this for smaller jobs or camping or something like that then you'll be fine. It does the trick pretty much as fast as a hand saw and is smaller and more portable, plus it comes in a nice little case.
Was this review helpful?

by N.E. on 09/07/2015
Great to own so far recently I got this item from RelyOnUs and I have to say that from the looks of it, fire wood stands no chance. As much as I want to give it a test run I have to hold off. I have seen these in action and when I pulled it out and looked at it I knew it had a permanent spot in my survival/camping & hunting pack. No more wasted wood from chopping with hatchets and axes. Yes, this will fit in your pocket! Anyone who is into the outdoors enough and knows survival should consider one. It is better to have and not need than to need and not have ,That is the truth, don't believe me? Watch the survival channel the show last frontier for example of course theirs other shows to learn from , all I can say is that I will be buying one each for the rest of my families camping supplies , Never say you have enough for survival help. Thanks Courtesy of RelyonUs . Disclosure: Item offered free in exchange for a review, I'am open to negative and positive comment's
Was this review helpful?

by E.U. on 09/03/2015
I just used this Handy Pocket chain saw to cut 6 "branches" that were shooting up out out of the ground around a large tree in my yard. The limbs were between 1/2" and 2" in diameter, and the saw cut through them with little difficulty. Although the cuts were not quite as clean as a gas-powered chain saw (mostly because I cut them myself, without a buddy to take the other end), they were satisfactory. The chain bites well, and can be used at just about any angle - wrapped around a limb with your right hand in one strap and your left in the other, or held straight out between 2 people and articulated back and forth. It will adapt to just about any size of limb or branch. It comes with a handy belt pouch, so you can keep the sharp edges out of your way while doing other chores, and pull it right out when you need it. It sure beats carrying a heavy chainsaw with you for small jobs, and you don't have to fight with it to get it to start...
Was this review helpful?
Rating Summary

3 total ratings
| | | |
| --- | --- | --- |
| 5 star | | 100% |
| 4 star | | - |
| 3 star | | - |
| 2 star | | - |
| 1 star | | - |
All ratings are from verified customer purchases.
Customers who viewed this item also viewed
Your Recently Viewed Items