Power Pod

2 reviews
---
List Price:$29.99
Price:$19.95
You Save:$10.04 (33%)
SELECT AN OPTIONOption:
Always have a charge when you need it!
Available in Apple Lightning or USB C plug.
Built-in Battery
Provides hours of instant power.
Product Description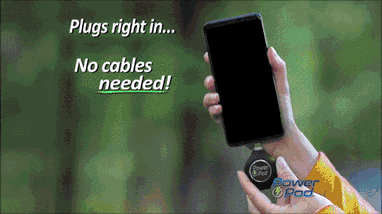 Never be stuck with a dead mobile device again! Power Pod is a mobile device charger that will charge your iPhone or Android device on the spot. It's not just a charge cable -- it's actually a fully rechargeable battery that's the size of a keychain!
Forget those bulky charge cases or solar chargers. Power Pod is the perfect tech device companion to take everywhere with you to make sure you always have all the extra power you need. The Power Pod is lightweight and fits right on your key, and plugs in to your phone without any cables so you're never stuck with a dead battery again.
The secret is Power Pod's built-in micro high velocity charger that delivers instant power that lasts for hours! Attach one to your key ring, or your briefcase, your handbag, your gym bag, it's the perfect size to stick on to backpacks so the kids can call for a ride after school or practice.
Customers who bought this also bought
Power Pod Reviews
Power Pod Reviews

by G.V. on 02/22/2020
Just got my Power Pod. It is nice and small and very lightweight. I charged it all night and today I used it to charge my iPhone when it got down to 10%. The Power Pod only charged my phone to 40% before losing its' power. I was hoping to get a full charge but 40% is better than a dead phone, I guess. In an emergency it would keep your phone going but doesn't seem to have enough capacity for a full charge for your phone.
7 people found this helpful. Was this review helpful?

by D.P. on 03/28/2020
Love It.Ordered another but on back order.
1 person found this helpful. Was this review helpful?
Rating Summary

53 total ratings
| | | |
| --- | --- | --- |
| 5 star | | 45% |
| 4 star | | 50% |
| 3 star | | 1% |
| 2 star | | - |
| 1 star | | 1% |
All ratings are from verified customer purchases.
Customers who viewed this item also viewed
Your Recently Viewed Items