Roovia Personal Space Heater

1 review
---
List Price:$79.99
Price:$59.00
You Save:$20.99 (26%)
The powerful, portable, personal space heater.
600 Watts Operates between 60 and 90 Degrees
No cables to trip over. Space saving design.
Plugs directly into wall.
Product Description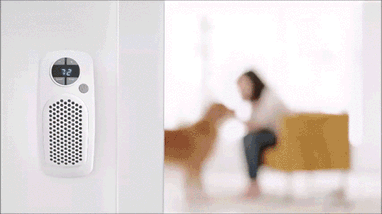 Heating an entire room from floor to ceiling is a waste of money and energy. Roovia warms the space around you, creating comfort right where you want it. Its compact size lets you take it with you anywhere, and since it plugs right into the wall, it doesn't take up any floor space and there are no cords to trip over.
Just plug it in, set the digital thermostat and fan speed, and Roovia gets right to work.
Use it around the home and in the kids rooms. Use it under the desk at your office. Toss it in your suitcase for business travel. Roovia is so small and compact, it can go wherever you do. It's UL and ETL listed, and meets or exceeds all US and Canadian safety standards.
POWER:650W (0c) 600W (25c)
VOLTAGE: 120V AC 60Hz
UTL STD: 1278
ETL: 5005540
TEMP RANGE: 60F - 90F
Customers who bought this also bought
Roovia Personal Space Heater Reviews
Roovia Personal Space Heater Reviews

by T.G. on 03/08/2020
Works best in smaller spaces
1 person found this helpful. Was this review helpful?
Rating Summary

50 total ratings
| | | |
| --- | --- | --- |
| 5 star | | 56% |
| 4 star | | 44% |
| 3 star | | - |
| 2 star | | - |
| 1 star | | - |
All ratings are from verified customer purchases.
Customers who viewed this item also viewed
Your Recently Viewed Items