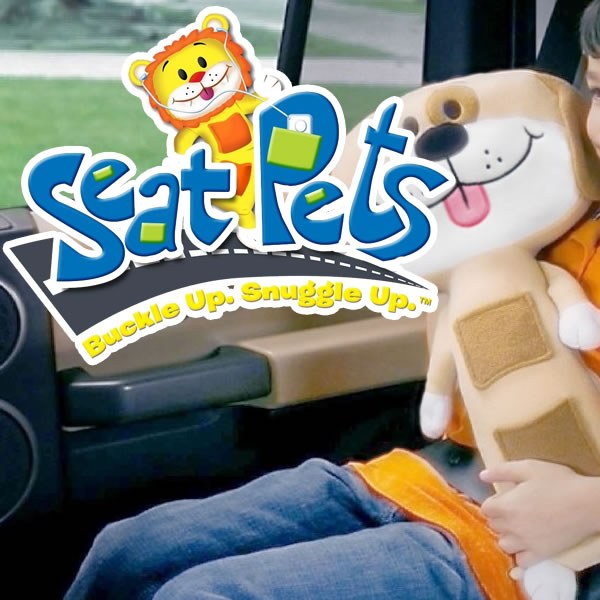 Seat Pets

1 review
---
List Price:$29.99
Price:$19.99
You Save:$10.00 (33%)
SELECT AN OPTIONOption:
With Seat Pets, your seat belt always stays in place!
Attaches to any seat belt
No more red marks or dangling heads
Water bottle sized pocket for Drink Storage
Product Description
Seat Pets Seat Belt Buddy- Snuggle up. With Seat Pets, your seat belt always stays in place. Now your children can "Buckle Up and Snuggle Up" with the best new travel sensation called Seat Pets. No more asking, "are we there yet?" Seat Pets attach to every seat belt and offer comfort, support and storage for children. Fit items as large was a water bottle inside the pockets of the Seat pet.

An excellent way to keep kids comfortable and most importantly, safe, while traveling. Available in Bentley the Dog, Mercedes the Cat, Malibu the Monkey and Love Bug the Lady Bug.

Award winner: 2012 The National Parenting Seal of Approval Dr. Toy 100 Best Children's Products Winner 2012 Creative Child Magazine's Creative Toy Awards Product of the Year Award Features: Attaches to any seat belt Water bottle sized pocket No more red marks or dangling heads Machine washable Includes: 1 x Seat Pets Seat Belt Buddy
Customers who bought this also bought
Seat Pets Reviews
Seat Pets Reviews

by D.K. on 09/04/2015
My wife bought the cat version of this "toy" for my daughter. Although my wife bought it to keep our daughter's head from flopping around when she falls asleep in the car, I call it a "toy" because it's practically useless for its intended purpose, but my daughter carries it around everywhere, day and night. Even sleeps with it. The concept is great, but the quality is laughably poor. It served its intended purpose for a few days and after that, the Velcro strap that's supposed to hold the toy to the seat belt strap is no longer strong enough to hold it in place. The cloth strap that actually straps to the seat belt is so thin and flimsy that, if the Velcro was any stronger, the strap would probably tear apart. With regard to the quality of the plush doll: the instructions say to machine wash. After a couple of days of owning it, my daughter spilled some juice on it. My wife put it in the washer and the doll fell apart at the seams so when my wife opened...
1 person found this helpful. Was this review helpful?
Rating Summary

19 total ratings
| | | |
| --- | --- | --- |
| 5 star | | 68% |
| 4 star | | 26% |
| 3 star | | 5% |
| 2 star | | - |
| 1 star | | - |
All ratings are from verified customer purchases.
Customers who viewed this item also viewed
Your Recently Viewed Items