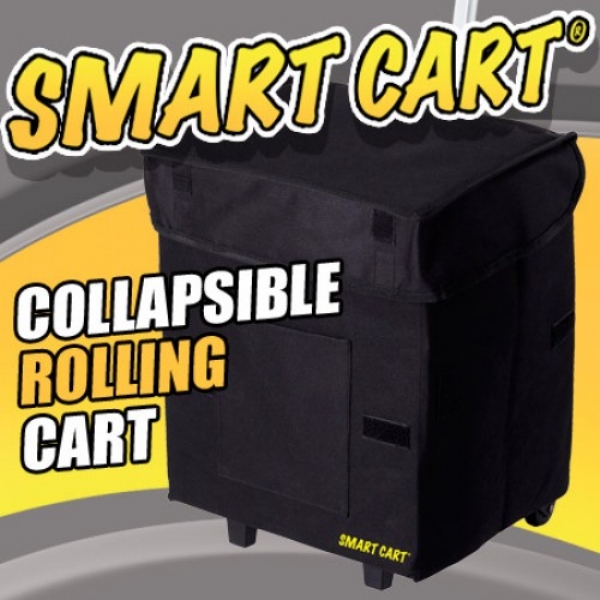 Smart Cart

1 review
---
List Price:$29.95
Price:$24.95
You Save:$5.00 (17%)
Option:
The Smart Cart is the most versatile folding carrying cart available.
Durable, Flexible, and WATER PROOF
Easily Haul UP to 110 lbs
Patented Extendable Handle
Product Description
The Smart Cart is the most versatile folding carrying cart available and will definitely make your life easier. The Smart Cart as seen on TV has a patented, ergonomically designed extendable handle that allows you to pull more weight with less effort and the non-slip rubber grip provides optimal comfort. With the Smart Cart, you can haul 110 lbs, and because it's made with a durable, flexible, and waterproof material, it makes hauling important, heavy loads easy. The smooth rolling wheels make it easy to maneuver. Features handy front pocket and fold-down lid. Collapses to only 2" for easy storage and weight less than 3 lbs.. Smart Cart is perfect for groceries, a day at the park or market. Expands to 13"x11"x14½" with handle telescoping 21½"


Customers who bought this also bought
Smart Cart Reviews
Smart Cart Reviews

by G.E. on 09/08/2015
I bought this little cart to help me bring groceries home from the store when I use the bus. It works terrific! I can fold it up and put in one of my fabric shopping bags on the way to the store and open it once I get my groceries. I have the check out person put the groceries in my bags and then I put them in my cart. There is a fabric top that fastens with velcro to keep the groceries in. The cart has a fabric handle which makes lifting the cart on and off the bus easy,I pull up the retractable handle and pull the cart home. I love it and use it a couple of times a week.
Was this review helpful?
Rating Summary

1 total ratings
| | | |
| --- | --- | --- |
| 5 star | | 100% |
| 4 star | | - |
| 3 star | | - |
| 2 star | | - |
| 1 star | | - |
All ratings are from verified customer purchases.
Customers who viewed this item also viewed
Your Recently Viewed Items