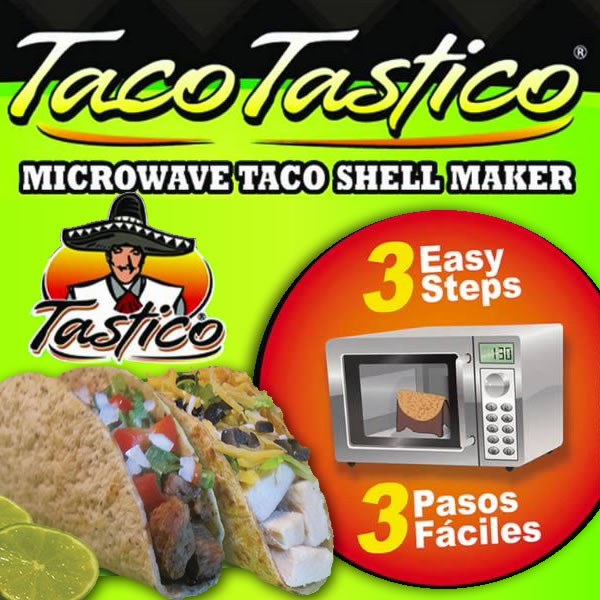 Taco Tastico

1 review
---
List Price:$19.98
Price:$13.95
You Save:$6.03 (30%)
Option:
Make crispy taco shells in your microwave.
BPA Free
Microwave, dishwasher, and freezer safe
Virtually no cleaning or clean up to make taco shells.
Product Description
Taco Tastico® is a microwave taco shell form that utilizes no oil to make PERFECT crunchy taco shells every time!

Crunchy taco shells can be used with Hawaiian, BBQ, Thai, vegan, stir fry, Chinese, and Italian tacos. Many low-calorie alternatives lack flavor and tastiness while a corn tortilla taco shell prepared on a Taco Tastico actually takes on a richer popcorn flavor. As a cleaner carbohydrate source without fattening oil, it can be incorporated into more meals with the satisfaction of a crunch.

It's designed to hold one standard corn tortilla as well as a standard larger 7" flour tortilla. Alternatively, two corn tortillas will fit on one Taco Tastico with minor overlapping and sticking together that snaps apart easily.

It's fast, simple, and much healthier!

Features: lightweight very durable BPA Free microwave, dishwasher, and freezer safe virtually no cleaning or clean up to make taco shells.
Customers who bought this also bought
Taco Tastico Reviews
Taco Tastico Reviews

by G.C. on 09/10/2015
I have bought 3 sets of these, so six in all. I gave two individual Tasticos as gifts; I use two at home; and I use and share two at the office with my co-workers whenever someone wants a healthy crispy tortilla either as a taco shell or to crack into dipping chips. Taco Tastico is a terrific aid for easily and quickly making non-greasy taco shells, perfect for the gourmet taco or my usual quick in-office high protein snack of tuna and hot-sauce in a taco. Our office microwave takes about 54 seconds to make a white corn tortilla deliciously crisp. Yellow corn takes a few seconds longer. Also, I tend to pause the cooking at the 27 second mark to wipe my Tastico with a paper towel and remove some excess water/humidity . I use Taco Tastico at least a couple times a week and highly recommend this product. It cleans easily and after frequent multiple uses, this product still looks brand new and has not at all degraded, discolored or deformed. Definitely 5-stars.
Was this review helpful?
Rating Summary

19 total ratings
| | | |
| --- | --- | --- |
| 5 star | | 68% |
| 4 star | | 31% |
| 3 star | | - |
| 2 star | | - |
| 1 star | | - |
All ratings are from verified customer purchases.
Customers who viewed this item also viewed
Your Recently Viewed Items