Vino Pop Wine Opener

Be the first to write a review!
---
List Price:$29.99
Price:$19.94
You Save:$10.05 (34%)
Because Opening Wine Should Be Easy!
No broken corks or bits of cork in your wine
No more tugging & struggling!
Uses Air Rise Technology
Product Description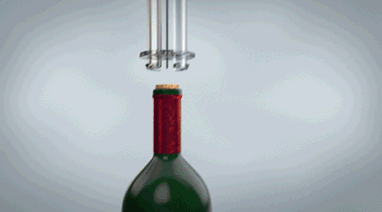 As Seen On Shark Tank!
Open your wine the quick and easy way with the Vino Pop Wine Opener set. Vino Pop harnesses the power of air to "pop" the cork right out the bottle! Simply push the pin into the cork, pump 2-3 times and cork pops right out. Now that's easy. No damaged corks or bits of cork in your wine.
Never break a cork again! Vino Pop has a stainless steel and poly-carbonate guard, and a pin the middle that prevent you from stabbing yourself.
Faster and easier than using ordinary cork screw or operated wine opener. And there's no need for batteries or CO2 cartridges. Easy for anyone to use.
5 pc. set includes Vino Pop, Wine Sealer, Aerator Pour Spout, Foil Cutter, Storage Pouch
Customers who bought this also bought
Vino Pop Wine Opener Reviews
Vino Pop Wine Opener Reviews
No customers have left a written review of this product yet.
You can be the first to write one!
Rating Summary

40 total ratings
| | | |
| --- | --- | --- |
| 5 star | | 40% |
| 4 star | | 60% |
| 3 star | | - |
| 2 star | | - |
| 1 star | | - |
All ratings are from verified customer purchases.
Customers who viewed this item also viewed
Your Recently Viewed Items