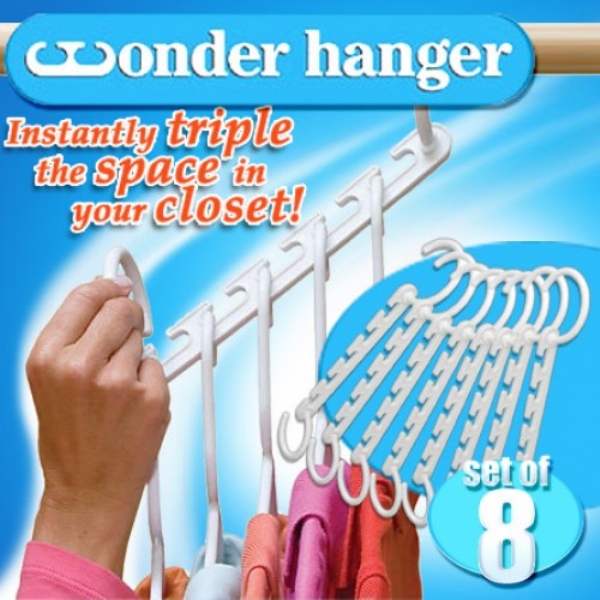 Wonder Hanger

17 reviews
---
List Price:$19.95
Price:$9.94
You Save:$10.01 (50%)
Option:
The ultimate solution to any crowded closet.
Each Wonder Hanger Holds 5 Coat Hangers
Save Closet Space
Strong Enough for Heavy Coats
Product Description
Wonder Hangers are the ultimate solution to any crowded closet. Space-saving Wonder Hangers triple the hanging space in your closet instantly.

Place Wonder Hangers on closet rod, hang 5 wooden, plastic or metal hangers in open slots, lift one of the hooks and allow the Wonder Hanger to drop down to a vertical position. Clothes stay neat and tidy. Each Wonder Hanger holds up to 20 pounds. Plastic. Strong enough to hold 5 winter coats..
Customers who bought this also bought
Wonder Hanger Reviews
Wonder Hanger Reviews

by F.D. on 09/02/2015
I have read plenty of smear reviews for the wonderhanger so I want to get one thing straight. The wonderhanger really works. Really, it does, let me explain. While the commercial says you'll triple your closet space, the Wonderhanger will double it effortlessly (without squeezing clothes in there) indeed preventing wrinkles. With a small apartment, doubling your closet space is nothing short of awesome, making this product a must buy if it weren't for... The fact it's so darn flimsy. The plastic hooks that hold up the wonder hanger bend and fall off under the weight. Meaning, your closet may look nice for a day, a week, heck months (mine did) then everything comes falling down. So, there is good news. If you buy some plastic zip ties (Home Depot got 100 of them for five dollars for example) you can avoid using the flimsy plastic hooks and use the zip tie to 'install' the Wonderhanger to your closet rod. If you buy zip ties designed to hold a...
Was this review helpful?

by B.C. on 05/14/2015
Hard to click together but great for condensing closets!
Was this review helpful?

by E.R. on 04/22/2015
helped keep closet neat and organized.
Was this review helpful?

by R.W. on 10/21/2014
This is just what I ordered. Now I have plenty of room in my closet.
Was this review helpful?

by W.I. on 09/19/2014
I used these space savers to organize my closet now it is even color coded. Same color series on each one makes it easy to find the color you need and I have space for all my clothes works great.
Was this review helpful?

by D.E. on 09/17/2014
Very useful when you need more room in your closet
Was this review helpful?

by S.G. on 08/27/2014
Purchased this for my grandson's closet after using it in my own closet. Helps tremendously in limited closet space!
Was this review helpful?

by R.A. on 08/25/2014
The only complaint I have is that my husband had to put them together for me because they were hard to snap the hooks in but other than that the product is great
Was this review helpful?

by S.G. on 07/13/2014
These were not the same item I had purchased earlier, but serve the purpose well. I had to use a pair of pliers to click the assembly into place, and they do not swivel when assembled. They are sturdier than my previous purchase; they also take up more room. All in all, I am satisfied with this purchase for the additional storage they provide.
Was this review helpful?

by M.M. on 07/12/2014
Great product -- easy to organize my closets.
Was this review helpful?

by P.T. on 07/01/2014
I moved into an apartment with only one closet! What's up with that?! The Wonder Hangers definitely fit the bill for more room. Unfortunately, the large ring was easily broken when trying to put it together.
Was this review helpful?

by C.E. on 06/16/2014
Used in bedroom closet
Was this review helpful?

by B.R. on 04/24/2014
*I bought this product because I have too many clothes for a little place. Needless to say, I bought 3 sets and plan on buying more when needed. I have a full closet and like to hang up everything. The product made it easier to find what I needed and gave me more room to have more clothes in the future. For me this product did not just give me more room, it keeps my clothes organized the way I need it. *The thing I like most about the product is that it is made out a thick plastice. Making it durable but I would keep in mind the weight limit. *For the most part the assemble was easy and fast. I did have to pull on some to get them to set.
Was this review helpful?

by R.O. on 01/20/2014
I collect T-shirts and this helps to save closet space.
Was this review helpful?

by S.E. on 11/21/2013
Love the product just hard to snap the rings in...Need someone strong to assemble. My fingers and wrists hurt by the time I finished 1 box and I bought 2 boxes... Side note: The review won't let you delete misspells!
Was this review helpful?

by C.B. on 11/17/2013
We use the product in our bedroom closet for shirts. I have a lot of shirts and they were cluttering up my closet. The Wonder Hanger made so much more room, but they are not good for heavy items such as jeans. I hung some jeans on one, and after a few days, the hanger broke from the rest of the item, and I had to use the bottom part of the item to hang it on my closet rod. It's really only good for light T-shirts and long sleeve T's and light sweaters.
Was this review helpful?

by O.C. on 11/05/2013
I had one break pretty easily, but they are really awesome overall, and are giving me so much room! From a stuffed closet, to so much more room! I'm buying more!!
Was this review helpful?
Rating Summary

27 total ratings
| | | |
| --- | --- | --- |
| 5 star | | 62% |
| 4 star | | 25% |
| 3 star | | 11% |
| 2 star | | - |
| 1 star | | - |
All ratings are from verified customer purchases.
Customers who viewed this item also viewed
Your Recently Viewed Items