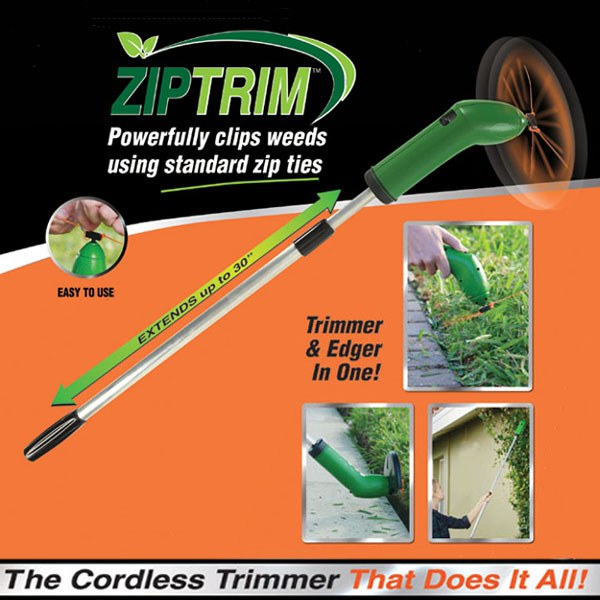 Zip Trim Cordless Trimmer

1 review
---
List Price:$24.99
Price:$12.94
You Save:$12.05 (48%)
Powerful trimmer and edger in one!
Do all your cleanup work in second!
Lightweight extension pole for hard to reach jobs
Easy to use, works with standard zip ties
Product Description
The Zip Trim Cordless Weed Trimmer is the portable trimmer that does it all by putting the RPM power of a traditional trimmer in the palm of your hand. No more expense, or mess and fuss related to gas or electric trimmers.

The portable design and handheld size makes Zip Trim easy to use and it works with any standard size zip ties or cut them down for more precision work. It even has a protective debris shield for extra safety.

The lightweight extension pole allows you to trim all those hard to reach places without bending, straining or climbing dangerous ladders.

So stop lugging around heavy, expensive gas trimmer or messing with electrical cords. Zip Trim is the cordless, lightweight weed trimmer that makes clipping weeds or edging your lawn faster and easier than ever before.


Customers who bought this also bought
Zip Trim Cordless Trimmer Reviews
Zip Trim Cordless Trimmer Reviews

by T.S. on 03/30/2020
Does not work. Weeds just get tangled. It pulls out nothing. Don't waste your money.
Was this review helpful?
Rating Summary

50 total ratings
| | | |
| --- | --- | --- |
| 5 star | | 44% |
| 4 star | | 48% |
| 3 star | | - |
| 2 star | | - |
| 1 star | | 8% |
All ratings are from verified customer purchases.
Customers who viewed this item also viewed
Your Recently Viewed Items